DR. BRONNER'S Organic Liquid Soap Citrus Orange 16 oz
Regular price

Sale price

£13.99 GBP

Unit price

per
DR. BRONNER'S Organic Liquid Soap Citrus Orange 16 oz
Dr. Bronner's Citrus Orange Pure-Castile Liquid Soap - 16 oz. Fresh and bright & with an invigorating blend of organic orange, lemon and lime oils! Our Citrus Pure-Castile Liquid Soap is concentrated, biodegradable, versatile and effective. Made with organic and certified fair trade ingredients, packaged in a 100% post-consumer recycled bottle. All-One!
Good for cleaning face, body, hair & food, dishes, laundry, mopping, pets; no synthetic preservatives, detergents or foaming agents; Fair Trade; OTCO; Not Animal Tested; Vegan; Non GMO; 100% post-consumer recycled bottle.
Ingredients

Water, Organic Coconut Oil*, Potassium Hydroxide**, Organic Orange Oil, Organic Olive Oil*, Organic Hemp Oil, Organic Jojoba Oil, Organic Lemon Oil, Organic Lime Oil, Citric Acid, Tocopherol.

* CERTIFIED FAIR TRADE INGREDIENTS  ** None remains after saponifying oils into soap and glycerin
Vegan-friendly. Made in the U.S.A.
How to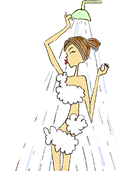 HOW MUCH TO USE ON HAIR?
Pure-Castile Liquid Soap: You can either apply ½ Tbsp. of soap directly to your scalp or dilute ½ Tbsp. of soap in ½ a cup of water for a thinner consistency
Pure-Castile Bar Soap: Work up a lather in hands and apply directly to the scalp
Organic Sugar Soap: One pump, applied directly to the scalp
Organic Shaving Soap: Start with a nickel-sized amount in your palm, and apply directly to the scalp
Deep Conditioning
For many—particularly those with dry, curly or kinky hair—a regular deep conditioning routine is key to healthy hair. The basis of a deep conditioning routine is to mix a combination of moisturizing ingredients (ex. coconut oil, olive oil, aloe, honey, avocado, banana, apple cider vinegar), apply this concoction to your hair for 15 to 20 minutes, then wash/rinse your hair as you normally would. How often you deep condition really depends on your hair's needs and your routine, but between once a week and once a month is a good ballpark
Share
An oasis of healthy hair goodies
NNH is my go to for all my hair needs. I enjoy the great product ranges, excellent service and prompt delivery and there is help on hand to make the best choice for your hair, if you need it too. Thankyou NNH .. ❤️